About us
Shanghai Daiyuan Fine Chemical Co., Ltd. is a private fine-chemical enterprise specializes in the R & D and manufacture of feed additives, analytical reagent, chemical pure and copper salts. They are mainly used for API, pharmaceuticals, feed, food, cosmetic, electro-plating, PCB, pesticide, second-generation auto airbags and wood preservation. With high technological content and outstanding quality, our products enjoy good reputation in China.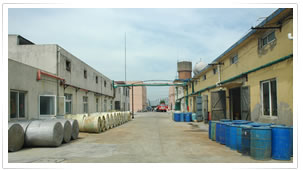 Since founding in Dec 1989, we have made rapid progress. Most products (80%) are exported to the US and Germany. We have built business relationship with LANXESS, BASF, Wyeth(Pfizer), DuPont Agriculture & Chemical, GE, ROHM HAAS, HannStar Board,etc.

Always focusing on quality,safety and environment, we take priority to the importance of the quality awareness of all employees, ISO9001-2008 certified. So far, we have successfully filed for 3 patents on copper salts, and couple of patents more are under process. We are also a provider of outsourced research & development for the global copper salt industry. Ranging from lab research, manufacture, design of production processes, quality control, even turn-key projects, our outsourcing services can help you lower R & D cost and shorten R & D time.
The R & D of cupric salts require technology, talents and information resources, in which aspects, we have the following competitive advantages:
- 20 years' experiences in the manufacture of cupric salts;
- Experienced management team;
- Top-notch technicians;
- Excellent business operation;
- Commitment to the diversification of customers' needs; high quality;
- Flexible ways of cooperation;
- Strict procedures to protect intellectual property rights of clients.
Shanghai Luyuan Fine Chemical Factory is attached to Shanghai Huating Chemicals Factory Co., Ltd.
We aim to become a famous provider of outsourcing services for cupric salts from lab to markets.